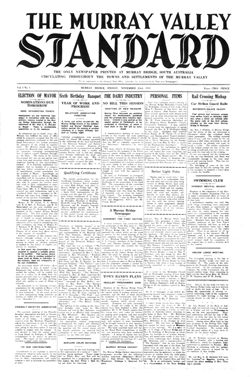 An early front page of the Murray Valley Standard.

On November 23, 1934, the first edition of The Standard was printed and distributed to readers across the Murraylands.

By establishing the newspaper, owner Maurice Parish intended to give the local community a voice.

Part of the first editorial states: "So far as we are able to influence readers to regard The Standard as "their" paper and as an organ for the ventilation of "their" problems and "their" doings, so we will have achieved our objective of establishing a proper mirror of the opinions of the Murray people."

Over the years The Standard may have undergone literary and cosmetic changes, but in no way has it changed its obligation to the community.

It has survived because of the strength of the people and districts it serves. The Murray Valley Standard is a collaborative record; it not only supplies news but also gives readers the opportunity to say what is important and relevant to their lives.

From national disasters to sports results, droughts to floods and community reports to council decisions, the paper continues to report on the highs and lows of the district.

The paper is compiled by local people who are proud to give their community a voice.

It is a tradition that has served the region well for more than 75 years and will continue for many years to come.